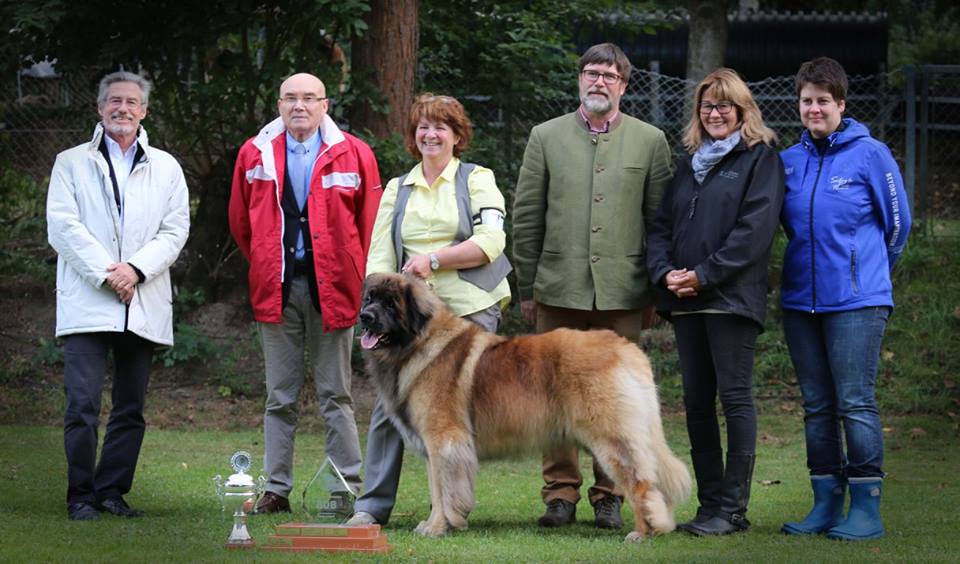 Ch Leokings Lionheart winner of Best In Show at Leonberg 2015 under 4 specialist judges .
Hello and welcome to our Leokings Leonberger website. Thank you for visiting!
Leokings Leonbergers have been awarded the title of Top Leonberger breeder 2013 , 2014, 2015 and 2016 !! Breeders of Champions both in Ireland and abroad and our stud boys have also sired Champions in Ireland and overseas. Breeder of Top Leonberger Annual Ch in 2013 and 2016 Ch and Int , UK Ch Leokings Lionheart at Hillhaven
We have had Leonbergers since 2004 and find there is no other breed quite so captivating . Leonbergers are a wonderful family dog and have a special fondness for children . Leonbergers are also very loyal and possess a very intelligent guarding instinct , protecting the home and family when necessary .They are active , funny and above all totally loving.
Ch Leokings Premiere Attraction ( Delboy )
4 years old , 35 Green stars , 25 with BOB , 12 Res GS , Celtic Winner 2014 , An Ch 2013 , International Champion and 2 x 2nd group 2 placings
Crufts 2014 and 2015 and 2016 Crufts qualified
We are very proud to be breeders of this magnificent breed . Our Leos are active therapy dogs with ITD (Irish therapy dogs) and some puppies are pets in families with autistic children
My name is Jacqui and my husband is Tom. We live in the midlands of Ireland. We fell in love with Leonbergers many years ago and now we have five of them. Our dogs are members of our family and share fully in our lives, living in our home. We sometimes have a litter of puppies which are available to vetted and responsible homes. If you feel you can offer a loving and committed home to one of our Leonberger babies please contact us.
We breed for excellence in type, temperament, structure and health to try to ensure that every puppy we produce has a long and healthy life. Our puppies are bred from a variety of European lines thus ensuring maximum genetic diversity and very low inbreeding. Each litter is carefully planned through detailed pedigree research to make sure that the best match is made. If you are interested in meeting and seeing our Leonbergers please give us a phone or email to arrange a visit. We would love to meet you and welcome visitors and enjoy talking about our Leos!
Together with several breeders from all over the world we started a new Leonberger database, all using the same program Breedmate. I collect the data from Ireland to be added in the database. So if you want to contribute or update data like your newborn litter, hip & elbow scores, eye test results, LPN1 results or photo's please contact me: [email protected] . This database is online with pedigrees and data of more than 135,000 leonbergers.