Another sad month for us as our old boy Yogi passed away peacefully . Always a very healthy boy , his age finally caught up with him .He was very nearly 10 years old ,
RIP our big soft teddy bear , you are much missed . Our home really feels quiet now with only our Prada and Baloo left , plus Daisy our Cockapoo .
There was an announcement of another test for Leonbergers , this one called LPPN3 . This is from the researchers below ,
The LPPN3 mutation is inherited in an autosomal recessive manner meaning that two copies of the mutation are required to show signs of disease (LPPN3-D/D). LPPN3 affected Leonberger dogs typically develop severe laryngeal paralysis at a young age, with most affected dogs requiring laryngeal tieback surgery. Additional clinical signs, which were noted variably among the dogs, included difficulty swallowing, changes in barking frequency and quality, high-stepping and uncoordinated gait, stumbling and tripping, exercise intolerance, and muscle atrophy. Like many neurological diseases, there is no effective treatment for LPN. Since in most cases the dog is not in pain but is strongly restricted in its quality of life, especially due to the frequent loss of normal function of the larynx, owners are encouraged to ask a veterinarian for advice.
This mutation explains ~3% of all diagnosed cases of laryngeal paralysis-polyneuropathy in Leonbergers (average onset 3.5 years); population testing of >2,700 Leonbergers indicates that the carrier rate is ~11%.

This mutation explains ~40% of young onset laryngeal paralysis-polyneuropathy within the Saint Bernard (average onset 2 years); population testing of >300 Saint Berndards indicates that the carrier rate is ~20%.

This mutation has also been found to be a rare cause of laryngeal paralysis-polyneuropathy in Labrador retrievers (especially younger Labradors, average onset 7.5 years); population testing of >1,500 Labrador retrievers indicates that the carrier rate is ~10%.

We have also identified LPPN3-D/D affected mixed breed dogs, and the mutation is present in several breeds.
All breeding dogs need to be tested to avoid putting two carriers together in the future .  Test results can be viewed on the Worldwide Leonberger Database for this mutation and also LPN1 and LPN2 and Lemp . If you are looking for a puppy , please do ensure that you actually view all health test results and save yourself the heartache of having an affected puppy .
We were very happy to learn that two of Zorros pups reached their 11th birthday in Australia . Congratulations to Ramius ( Gr Ch Adlihtam Hunt for Red October ) and Keira
Ramius 11 years old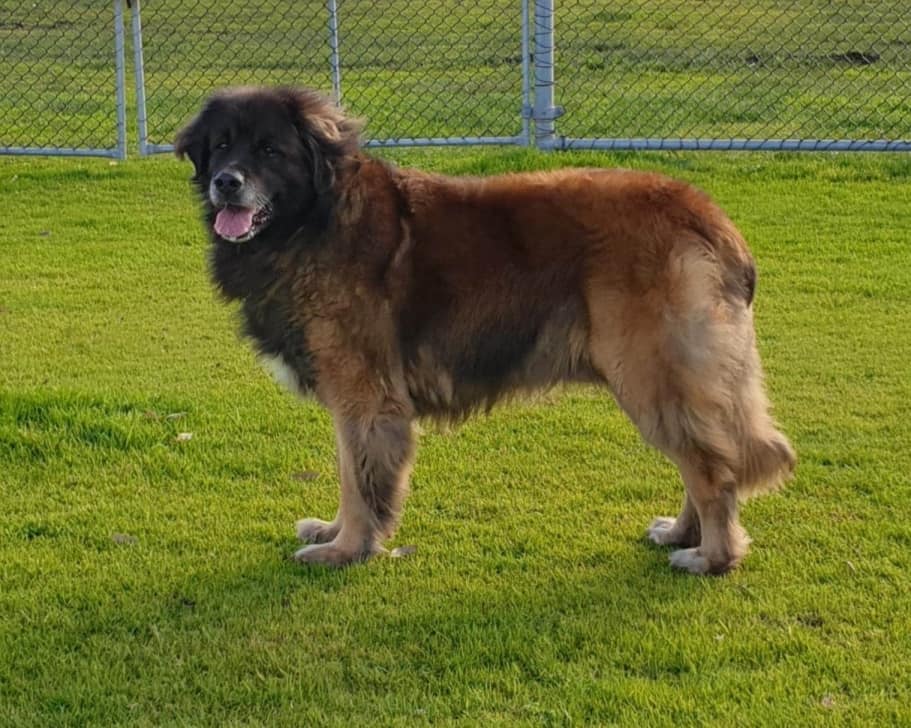 We received this lovely photo of Bertie now 2 years old from our last litter . Bertie is a huge boy weighing in at 83 kg